Like most Moms, whether you stay at home or work outside the home, we spend lots of time in the kitchen. Surrounding ourselves with beautiful things, makes your time in the kitchen, a little easier.
Using what you have on hand, is one of the best ways to decorate on a budget. I recently used several vases and candlesticks to decorate our Buffet for Fall. Also, using your collections to decorate with, and bringing similar items together, makes a statement. Here I used some of my cookie cutters, Fall themed, to fill the wooden box. And in the vase, I simply added cinnamon sticks and potpourri that had nuts and dried apples in it.
The cookie cutters in the wooden box are not only a fun display, it's also functional  having them close and easy to get to saves time and inspires me to create some fun Fall cookies.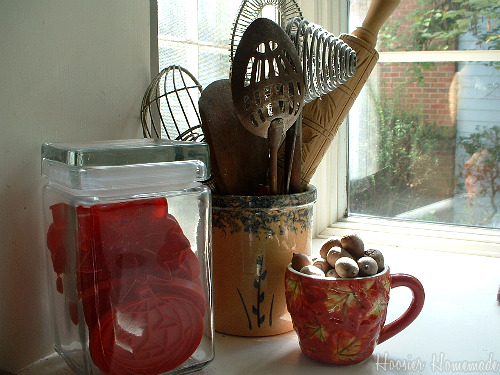 On the other side of the bay window, I added a glass jar filled with vintage red cookie cutters, a crock filled with my Antique Kitchen Utensils and a little tea cup filled with acorns. After decorating our Mantle, I had lots of acorns leftover, so I filled several cups and jars for a little bit of a Fall touch. I picked them up along the road, making it a no cost decorating idea.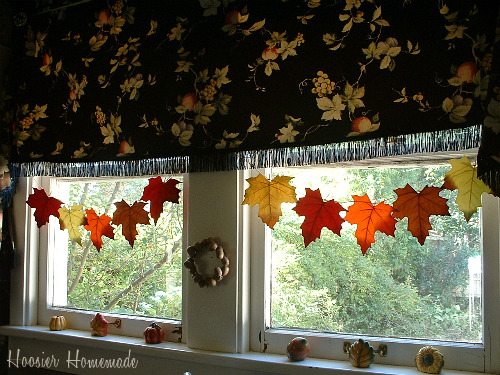 On the window above the sink, I added some small salt and pepper shakers and the Garland is simply a piece of twine with silk Fall leaves tied on.
With some of the leftover acorns, I made a little wreath, using a piece of wire and hot glue to attach the acorns.
Are you Decorating for Fall? Share your tips!