So, how to keep the kids busy on a long summer day? Try some of these fabulous activities we've rounded up as our favorite summer crafts for kids. Or, when the occasion calls for it, send the list to grandma.
Indoor Crafts
1. Be prepared to display their artwork with these super cute clothespin airplanes – a magnet on the back or a string on the wall will make a great landing strip for your kids' airplanes holding precious, handmade cargo.
2. There are plenty of indoor preschool crafts out there, so even the littlest never have to be left out.
3. Alphabet bean bags are a great project for a beginner sewer or a fun mommy-and-me collaborative project with lots of fun – and learning! – left to be had after the project is over.
4. Tissue box monsters will show off originality and creativity while also using up plenty of your leftover scraps and supplies.
5. Commemorate summer fun with an Everything Goes scrapbook.
6. I have a crayon eater, a crayon peeler, and a crayon breaker. Time to recycle crayon bits.
7. Marble magnets are simple and adorable.
8. Every summer has a story, so team up with your kids to make your own children's books to build language development, creativity and self-esteem. For the little kids, have them draw a picture and then dictate the story to you.
9. What's summer without paper pinwheels?
10. Painted cookies spice up your cookie jar and extend family baking time into craft time.
Paint the Town…Every Color!
11. When you are all hopscotched out, try painting with sidewalk chalk to mix things up a bit.
12. Did you know you can make your own scratch n' sniff paint? Yummy!
13. You are only limited by your imagination when it comes to art. Follow the kids' lead and try painting with unusual materials.
14. Block prints put the kids in charge and can make fabulous wall art for you or to give away, too.
15. Definitely an outside craft, give squirt bottle painting a "shot." put them in a big white t-shirt and let them paint each other, the fence, or (with washable paint) the house!
Beach-Themed Crafts for Kids
16. Bring the beach to life at home with a mini beach craft.
17. Painted sea shells make beautiful picture frame adornments, jewelry, paper weights, etc.
18. A paper plate aquarium adds depth to your standard picture drawing.
19. Alongside your mini beach, make a mini-lighthouse for those late night sleepovers or a beach themed bedroom or party.
20. Jellyfish. How cute are these guys?
21. Plan for a party or set the mood at home with an easy peasy Summer floral wreath.
[sc:adsense ]
Kid Crafts for Holidays
22. Summer opens with dad's day, so try a few of these crafts for Father's Day to let him know you care.
23. A Father's day "hand"kerchief adds a memorable and long-lasting touch.
24. Blast off to the 4th with rocket garland,
25. …a hand and footprint flag (which would be lots of fun for a birthday party!),
26. …popsicle stick flags,
27. …and paper lanterns! Modify these a bit and they will match any occasion.
28. Or, jump ahead of the game and be ready for fall with these eco-friendly Thanksgiving crafts.
Nature-Themed Crafts for Kids
29. Bring the beauty of nature indoors with this bird's nest craft.
30. Bead caterpillars build motor skills and keep little hands busy.
31. This Butterfly feet craft is another way to make something sweet out of those pudgy footprints.
32. A leaf sun-catcher can be modified in so many ways. Try shades of green for the leaves, or shapes of flowers, fish, rainbows, etc.
33. A summer craft list would be incomplete without a good pine cone animal feeder.
34. On an Eric Carle kick? Try out some more caterpillar crafts.
35. Toilet paper roll tubes turn into owls in this cute craft.
36. Contain some of that finger-painting vigor with a stamp pad and these thumbprint flowers.
Crafts That Double as Games or Toys
37. Make this miniature marshmallow gun with your kids, then send them off to the backyard for a battle royal.
38. Remember aluminum can stilts?
39. Who needs expensive building sets when you can spend hours on marshmallow-toothpick construction?
40. Make some noise with balloon bongo drums that double as shakers.
41. Angry Birds cans bring the game to life (and hopefully end some of that screen time!)
42. A simple kazoo makes hours of noisy, musical fun. Pair them with the bongos to make a band!
43. Craft time meets sensory play with balloon bean bags.
44. Flubber! Need I say more?
Wearable Crafts for Kids
45. Popsicle bracelets are all the fun of friendship bracelets, but easier for younger kids and unique for olders. Color them, paint them, wrap them, wear them, share them!
46. Bring new life to old shoes with this balloon flip flops tutorial.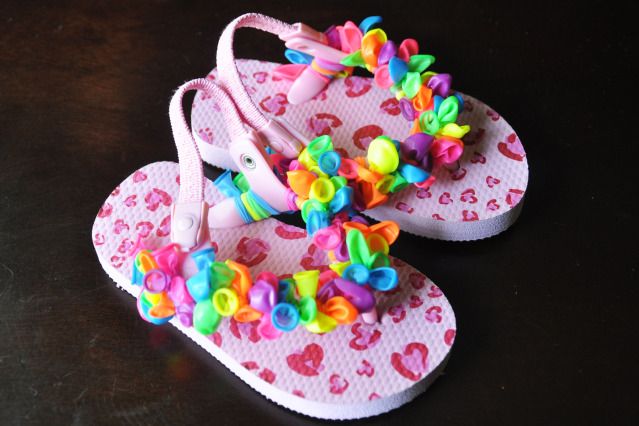 47. A homemade beard makes distinguished gentlemen (or crafty leprechauns) appear out of nowhere!
48. This toddler Mardi Gras mask can be revisited all summer long for magical pretend play.
49. Birthday parties, outings, or just a boring summer day can be made extra special when you can make a custom-designed baseball hat for the event.
50. Last but not least, tissue paper tie dye is all the fun of tie dye with half the work. Let them cover up that grass stained t-shirt or revitalize cheap Goodwill finds with minimal oversight.
Don't miss any of the Blissfully Domestic goodness! Sign up for our weekly newsletter.
Marshmallow Photo Credit: John-Morgan on Flickr