One of my favorite authors is Jan Brett. Her pictures are amazing, and I love that each picture is framed with another picture that either tells another story or gives clues to what is going to happen next (great for predicting, which is an important reading skill for children to learn). One of my children's favorites is The Mitten.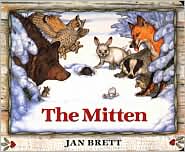 The Mitten by Jan Brett
Summary:
When Nicki drops one of his snow-white mittens in the snow, he doesn't even notice! It's not long before some woodland creatures discover it and crawl inside to get warm, each one getting progressively bigger. What happens to that snow-white mitten?
Activity Ideas:
This is such a fun story in and of itself! But there is so much more you can do—first to stretch the learning, and also to have fun! On Brett's personal website are printables of each character in the story that you can use. They are fun to make into puppets that your children can then use to act out the story. It's fun to get or make a white mitten or glove that they can place their puppets into.
Another fun activity is to actually act it out with your own bodies. There are many ways to do this so be creative, but I'll share with you how we do it.
Get a white sheet and lay it on the floor, folded in half; this is our white mitten.
Each person gets to choose an animal from the story to be (sometimes we have two of some animals and none of others; that's okay, too!). You could also have a headband or simple costume for the kids to put on that corresponds to each animal.
Retell the story vocally, letting each child have a chance to act out their part. When the mouse squeezes in at the end, the child who is the bear pretends to sneeze, and the "mitten" and animals "fly" into the air and land all crazy on the floor! I promise this will result in rounds of giggles!
This is a fun rainy or snowy day activity. The kids love to re-enact the story over and over!